Version

10.0.1

Project

Flyweb Production
Section

— —
This is a round-up of the Equipment, Soft -and Hardware I use for my daily job as webdeveloper.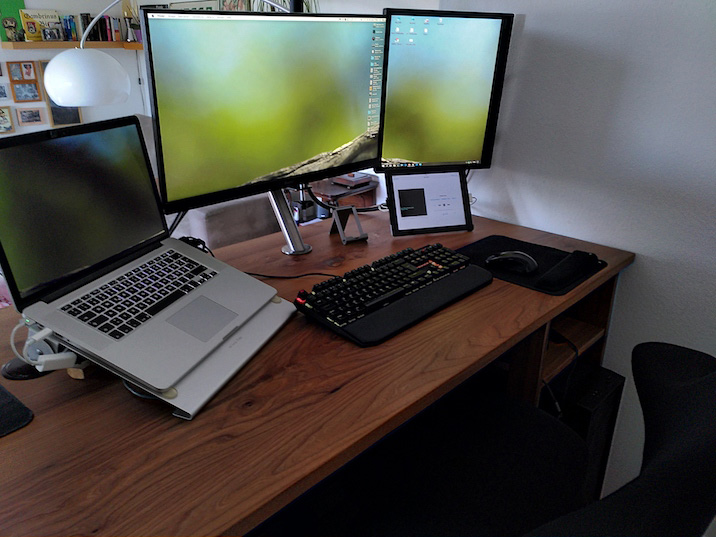 Equipment & Hardware
Keeping healthy while sitting all day in front of the Computer-Screen is important and so I switched to a Standing Table a few years ago. Because I could not find a table fitting my needs, I went to a carpenter who built a beautiful wooden table according to my plans. This was not cheap but the result was worth the money — there is a solution for the cable management, cable holes and shelves were I need them.
Since always standing is also not an option I completed my setup with an HÅG Capisco chair — Video: An Unusual Ergonomic Office Chair — which allows ergonomic sitting at the standing table.
My triple Monitor/Display setup consists of the display from my MacBook, an older 19'inch pivot Iiyama and a big 27' Iiyama Red Eagle Monitor.
Laptop
MacBook Pro 15-inch Intel Core i7 2 GHz — the Laptop hosts my Apache Webserver for local testing and developing.
Desktop Computer
Since the Desktop is also my Gaming-Rack the Hardware is way more sophisticated as it would be necessary for webdevelopment respectively Website Testing.
Software
The only notable Software running on my PC is synergy (https://symless.com/synergy). This great little Piece of Software let me use a single Keyboard and Mouse with both my Apple and Windows machines simultaneously. Besides, only Browsers for testing and Steam (along with games) are installed on my Windows computer. As for my Apple and the "serious stuff", see below:
Coding
VS Code - for the good code suggestion
Sublime - for the quick & dirty
FileMerge - Line by line code comparing with Apple's own merge tool - you'll find this native osX App in the folder: /Applications/Xcode.app/Contents/
Sourcetree - Simple GUI for git
Boostnote - great App to collect Notes and Tips
CyberDuck - good ol' FTP client
SequelPro - Open Source database management tool with many features
Graphics
Affinity Photo - Photoshop replacement, cheaper and no subscription needed like using (newer) adobe PS versions
Affinity Designer - editor for vector graphics, a great replacement for Illustrator, can also export to SVG
Photoshop CS3 - yes CS3(!), this is an ancient PS version which I sometimes use
Imageoptim - to reduces image file sizes
Paparazzi - underrated screenshot app for Apples. Great help to create Full-Page pdf's or png's screenshots from websites.